By Navjoy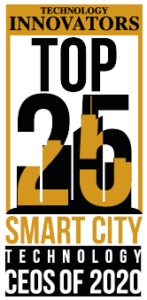 Esteemed and trusted CEO, Navin Nageli, has been selected as one of Technology Innovator's Top 25 Smart City Technology CEOs of 2020.
Growth
Over the years Navjoy has helped more than 30 clients update their traffic infrastructure and data management. In recent years, Navin's thoughtful leadership has shifted the company's focus to improve operations and increase efficiency in traffic incident management, work zone management, fiber and network operations, transportation data gathering and analytics, and operations of intelligent traffic assets.
His plan for the future broadens Navjoy's scope to serve a broader public sector across all departments on improving efficiency and business agility using smart city technology and innovation. Smart Cities are the way of the future and Navjoy will be part of getting us there.
"We believe Navjoy as an organization exists to create efficiency and business agility for our clients," said Nageli.
Leadership
Navin's passion for innovation and unique approach to leadership has brought the issues to the forefront of the software solution's purpose. The solutions help public agencies with situational awareness, analytics and IT support, and reduction of data silos.
Navin continues to be guided by his desire to solve large-scale transportation problems, such as high fatality rates and limited budgets, with technology. His innovative thinking and drive to improve the industry as a whole consistently propels Navjoy forward both in our local community and across the country. Navjoy expanded to serve Departments of Transportation (DOTs) nationwide and will continue to grow under his leadership.